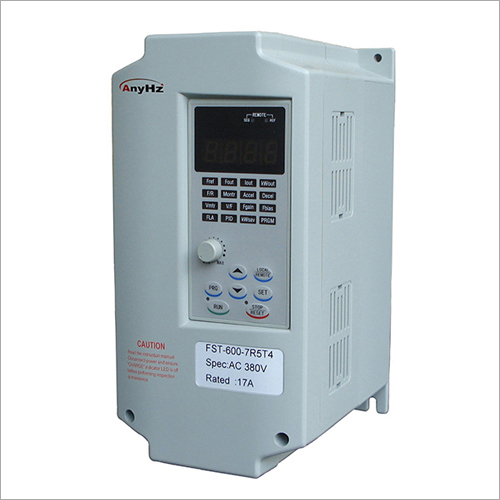 380V AC Frequency Inverter
Product Description
With a vision to be pioneer to our domain, we are engaged in manufacturing and supplying
380V AC Frequency Inverter
. The inverter is precisely designed to deliver excellent performance, known for premium quality and to give full usage satisfaction to the clients.
380V AC Economical Frequency Inverter
is CE certified and also, it has compact design and therefore requires less installation space. Its applications include carving machine, textile, packing, centrifugal machinery and wire cutting. Available with us at leading market prices.
Technical Specification
Model Number FST-500

007

015

022

037

055

075

Max. Applicable Motor Output (kW)

0.75

1.5

2.2

3.7

5.5

7.5

Max. Applicable Motor Output (HP)

1.0

2.0

3.0

5.0

7.5

10

Output rating

rating

Rated Output Capacity (kVA)

2.3

3.1

3.8

6.2

9.9

13.7

Rated Output Current (A)

3.0

4.0

5.0

8.2

13

18

Maximun Output Voltage (V)

3-Phasc Proportional to input voltage

Output Frequency (Hz)

0.1 ~400Hz

Carrier Frequency (kHz)







1-

15







Input rating

Rated Input Current (A)

3-Phasc

4.2

5.7

6.0

8.5

14

23

Rated Voltage. Frequency

3-Phaso 380 to 480V . 50 / 60Hz

Voltage Tolerance

± 10%(342~528V)

Frequency Tolerance

± 5%(47—63Hz)







Fan Cooled

Weight (Kg)

1.5

1.5

2.0

3.2

3.2

3.3

Control characteristics

Control System

SPWM (Sinusoidal Pulse Width Modulation)control (V/F or sensorless vector control)

Freq. Setting Resolution

0.1Hz

Output Frequency Resolution

0.1Hz

Torque Characteristics

Including the auto-torque, auto-slip compensation; starting torque can be 150% at 5.0Hz

Overload Endurance

150% of rated current for 1 minute

ISkip Frequency

Three zones, settings range 0.1-400Hz

|Accel/Decel Time

0.1 to 600 seconds (2 independent settings for Accel/Decel Time)

Stall Prevention Level
Frequency Setting

20%-200%, Setting of Rated Current




DC Injection Braking

Operation frequency 0-60Hz, output 0-100% rated current
Start time 0-5 seconds, stop time 0-25 seconds

Braking Torque

Approx. 20% (up to 125% possible with option braking resistor or
braking unit externally mounted)

V/F Pattern

Adjustable V/F pattern

Operating characteristics

Frequency
Setting

Keypad

Set by®®

External
Signal

Potcntiometcr-5KQ/0.5W, 0 to +10VDC; 4 to 20mA, RS-485 interface;

Operation

Setting

Signal

Keypad

Set by RUN, STOP

External
Signal

2 wires / 3 wires (Run, Stop, Forward / Rev, ), JOG operation,
RS-485 serialinterface (MODBUS)

Multi-Function Input Signal

Multi-step selection 0 to 7, Jog. accel/decel inhibit, first to forth accel/decel switches, counter,
PLC operation, external Base Block (NC, NO)

Multi-Function Output Indication

AC Drive Operating, Frequency Attained, Non-zero, Base Block, Fault Indication,
Local/Remote indication. PLC Operation indication. Auxiliary Motor Output, Driver is Ready,

Analog Output Signal

Analog frequency/current signal output.

Alam Output Contaact

1Form C contact or open collector output.

Operation Functions

AVR. S-Curve. Over-Voltage. Over-Current Stall Prevention, Fault Records. Adjustable Carrier
Frequency, DC Braking, Momentary Power Loss restart,
Trade Information
100-1000 Per Month

1 Months